Social Media Addiction Statistics for 2022
Statista reveals that a staggering 90% of people aged 18-29 state they use social media in any form available, meaning they are at the highest risk of becoming social media addicts.
Nick Smallman 13th October 2022
Social Media Use & Addiction Statistics are quite scary. In May 2022 Truelist estimated that 210 million people worldwide suffer from addiction to social media and the internet.
Statista reveals that a staggering 90% of people aged 18-29 state they use social media in any form available, meaning they are at the highest risk of becoming social media addicts. Those aged 30-49 have a smaller share of 82%. The stats keep lowering as the age of participants goes up, with those aged 50-64 reporting 69% consumption and the 65+ age group going as low as 40%.
Of course, there are some benefits to using social media. But according to a Child Mind Institute study in the US between 2010 and 2015, over half a million 8th grade through 12th graders' depressive symptoms increased by 33%, and the suicide rate for girls in that age group increased by 65% (8th Grade is Middle School and 12th grade Senior School) . Smartphones were released in 2007, shortly before the study began, and by the year 2015, 92% of teens and young adults owned a smartphone.
Social Media Addiction Statistics and Facts
Here are some social media addiction facts you may want to know, courtesy of Mentalup:
• An average person spends nearly 2 hours a day on social media. That sums up to 5 years and 4 months of his/her lifetime
• Teens addicted to social media can spend up to 9 hours a day on it
• Teens who spend more than 5 hours a day on social platforms are twice more likely to suffer from depression
• Children start to use social platforms at the age of eight
• 210+ million people worldwide are affected by the internet and social media addiction
• Every month, 1 billion people use Instagram
• As of 2022, 59% of the world's population is on social media
• There are 4.7 billion active social media users
• 1 in 3 divorces is caused by social media
• 4 in 10 young adults have insufficient sleep caused by social media addiction
When people were asked by BBC Future how much time was too much time to spend every day on social media 40% responded '2 or 3 hours'.
According to Addiction Centre psychologists estimate that as many as 5 to 10% of Americans meet the criteria for social media addiction today.
Facebook demographics and usage
According to sprout social, Facebook still remains the largest platform amongst consumers and marketers. But time spent on Facebook has fallen (from 38 minutes a day to 33 minutes) over the past five years, despite overall social media usage spiking. Also, Facebook's user growth has slowed to a grinding halt with only a 0.8% change increase during 2021.
But according to Oberlo, a 2021 financial report released by parent company Meta, revealed that in 2021 Facebook's ad revenue hit $115 billion, crossing the $100 billion mark for the first time in history. That's nearly $31 billion more than the previous year and represents a 36.6% annual increase.
Instagram demographics and usage
• The platform has quietly doubled their user base to 2 billion within three years, a staggering statistic that proves Instagram's staying power
• As younger users migrate to TikTok, it's perhaps fair to say that Instagram is no longer the "hip" network in the eyes of today's teenagers
• That said, Instagram maintains a firm hold on Gen Z and Millennials ¬– these groups make up roughly two-thirds of their base
• Recent Instagram stats and new Shopping features (like Drops) signal the platform's shift to becoming an ecommerce hub
• Instagram Reels are popular, but they couldn't stop TikTok's momentum in 2021 —the platform continues to peel influencers away from Instagram.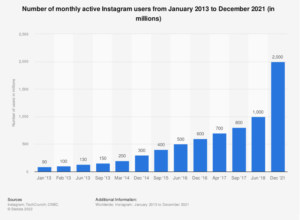 TikTok demographic data and usage
• Number of monthly active users: 1 billion
• Largest age group: 10-19 (25%)
• Gender: 61% female, 39% male (no data on other genders)
• Time spent per day: 89 minutes per day
Takeaways from TikTok demographics for 2022
• TikTok's popularity and growth are unprecedented (~10x more users since sproutsocial's last social media demographics breakdown)
• Not only is the user base booming but also activity – users are spending nearly 90 minutes a day on the platform
• Fact: nearly 40% of Gen Z say they're directly influenced by products they see on TikTok, and brands should take notice
• As more and more brands get on board, we're seeing influencers do the same
• TikTok is ramping up and "maturing" to meet the needs of its users, including more advanced ads and CRM integrations
Twitter demographics and usage
• Number of daily active users: 211 million (up from 187 million)
• Largest age group: 18-29 (42%)
• Gender: 38.4% female, 61.6% male (no data on other genders)
• Time spent per day: 31 minutes
Takeaways from Twitter demographics for 2022
• Twitter's usage and growth have remained consistent year-to-year, although its user-base is obviously skewing younger these days
• Despite recent growth (up from 187 million users last year), research predicts that Twitter will lose about a million users to other platforms over the next five years
• One-third of Twitter users are college-educated and make more than $75K annually, highlighting the platform's highly educated and high-earning base
• Twitter's status as a place to discuss events and gather breaking news make it a prime place to share content and drive discussions, but advertising is still tricky
• While Twitter's Fleets failed, renewed interest in Spaces could breathe some new life into the platform
LinkedIn demographics and usage
• Number of monthly active users: 810 million
• Largest age group: 25-34 (58.4%)
• Gender: 48% female, 52% male
• 63% of LinkedIn users access the network weekly, and 22% daily
Takeaways from LinkedIn demographics for 2022
• Conventional wisdom might say that LinkedIn exclusively caters to an older audience, but now Millennials dominate the platform
• LinkedIn reportedly experienced record revenue, driven by the platform's growth during COVID-19 and increased interest in new jobs
• The platform's demographic of high-earning B2B professionals makes LinkedIn a potential goldmine for ads
• According to LinkedIn themselves, it's the top-rated social network for lead generation, making it a great source for B2B marketers looking to find targeted and motivated audiences for their campaigns
• Given that only 180 million (25%) of LinkedIn's users are located in the US, the platform has a massive international reach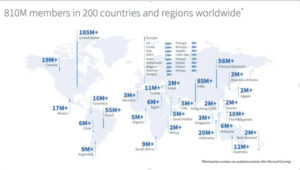 Pinterest demographics and usage
• Number of monthly active users 431 million
• Largest age group: 50-64 (38%)
• Gender: 78% female, 22% male (no data on other genders)
• Time spent per day: 14.2 minutes
Takeaways from Pinterest demographics for 2022
• Although Pinterest is largely considered female-dominated, the platform saw a surprising spike in male users during 2021
• The platform's core user base of 400+ Pinners continues to hold steady (and ad revenues are up from where they were a couple of years ago)
• Pinterest is perhaps the most produced focused of any social network, signalling big opportunities for ads (hint: 45% of Pinterest users have a household income of $100,000+)
• Shopping-centric organic content is fair game, too — almost 70% of users say they trust Pinterest and it's their favourite place to research products
• Pinterest's social media demographic data is unique as their users are almost evenly split age-wise — 18-29 (32%), 30-49 (34%) and the largest demo is 50-64 (38%)
Snapchat demographic data and usage
• Number of monthly active users: 319 million
• Largest age group: 15-25 (48%)
• Gender: 54.4% female, 44.6% male (no data on other genders)
• Time spent per day: 25+ minutes
Takeaways from Snapchat demographics for 2022
• Although Snapchat may not be the most talked-about or "trendy" network anecdotally, the platform saw growth during 2021
• Snapchat is still huge with the younger crowd, although it recently lost its top spot as teenagers' go-to network
• Even if you aren't active on Snapchat, it's a prime place for trendspotting and learning what younger consumers want
• With 57% YoY revenue growth (breaking the $1 billion barrier), Snapchat isn't going anywhere yet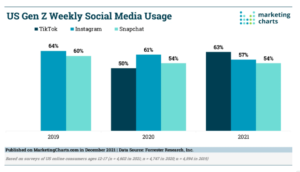 YouTube demographics and usage
• Number of monthly active users: 2+ billion
• Largest age group: 15-35 (highest reach)
• Gender: 46% female, 54% male (no data on other genders)
• Time spent per session: ~30 minutes
Takeaways from YouTube demographics for 2022
• YouTube's popularity among younger users highlights the ongoing, long-term shift toward video content
• Marketers note that YouTube is still a sort of land of opportunity advertising-wise, viewing it as a place to put their ad dollars in the future versus the likes of Facebook (hint: YouTube's ad revenue increased 43% YoY)
• This revenue growth signals not only the platform's influence as a social network but also as a go-to streaming service
• Given that 62% of YouTube's users log into the platform daily, the platform has no problems with engagement and retention
• Still, most YouTubers claim to use the platform for entertainment rather than to find brands and products. Brands still have a lot of work to do on the platform to find a balance between entertainment and advertising
How to stop social media addiction
On yourlifeonsocialmedia.com you can find a blog dedicated to helping the reader to stop their addiction to social media. The piece contains several tips and suggestions to help with the problem.
Social media is theoretically a fantastic way to connect with people but has turned from an idealistic experiment into the largest mass communication tool in history. But there are a host of unfortunate and unintended consequences.
The fact is the human brain has not evolved fast enough to be able to cope with the avalanche of information, opinion and threat that exists on the average social media feed. This the reason why a good deal of our actions online are unthinking, inauthentic, and mostly unconscious.
To help you improve your relationship with social media, or indeed to help people who believe they may be addicted to it, I'm offering Public Workshops. I also run them for Schools and Universities.